I looked around my house yesterday and wished I lived in a yurt. Somehow the years of acquisition, personally or lovingly imparted by friends and family, have made me long for a more minimalist existence. The idea of a spare nomadic life is compelling and I warned my family that we were going to implement a "one in, four out" policy moving forward. It's not that I am a collector, it's simply the accumulation of stuff. As I look around, I realize that there are few things that would ruin me if everything burned up tomorrow night. My most important "things" are my people, our health and the memories we share. The rest is icing. So this year I am making a commitment to nurturing those experiences.
Here are some of our favorite holiday ideas for gifts that are not objects. We love these ideas to give to parents or entire families because they are the kinds of gifts that, without contributing to landfills, will be used, appreciated, and create memories.
1. A family membership to a cultural attraction like a zoo, museum, or botanical garden. This would be my #1 favorite gift to receive. I can't tell you the number of times we've gone to one of these places, had a fabulous time for an hour and a half, then the kids are done. It's hard to justify shelling out the hefty admission fees for that short amount of time, but with a membership you can go for an hour here or there, fully enjoying whatever you choose to focus on during that visit. Memberships are often tax-deductible, and many times there is an extended family option so that one or more adult is swappable — we get this one so we can go with a grandparent or a friend. Many of these organizations offer educational programs, play areas for little ones, and special events like family slumber parties or holiday breakfasts. Some memberships (zoos and gardens in particular) also give you access to similar attractions in other cities. Anne's favorites for kids in Cleveland: Cleveland Metroparks Zoo, Cleveland Botanical Garden, Museum of Natural History. Shannon's favorites in Chicago: The Shedd Aquarium, The Peggy Notebaert Nature Museum -complete with incredible outdoor trails and two block access to the beach, and the Museum of Science and Industry.
2. A family session with a professional photographer (or just one for the kids). Find one who takes natural, artful shots that mimic great candids. Who to call in Cleveland: Heather at Photography by HDS. Chicago: Simone Bonde.
3. A special night out. This could be an event where the whole family dresses up and goes out to a theatre performance, or it could be an active outing where everyone goes ice skating and then out for ice cream — something the kids will remember forever because it's so much fun. If your group is large enough (sometimes just 10-15 people), you may qualify for a group discount, even if it's all family. These can be substantial — 30% off or more at some places — so ask!
4. A series of classes, such as art classes, gymnastics classes, ballet, swimming or language lessons, etc. Check out your local park district and YMCA as well as private providers as, frequently, there is excellent instruction at a fraction of the price. If you cannot schedule for someone, many companies will offer gift certificates. This is a great gift not only for kids, but also for parents (a yoga class, an exercise class).
5. A membership to Sittercity, or coupons for babysitting. For the month of December, SitterCity is offering 30% off a 3-month membership w/ code HOLIDAY30! Expires 12/31/13.
6. A mixed playlist of music that isn't kids music but that is appropriate for kids. Kids love to hear the same songs over and over again, so it's a life-saver to have a diverse selection that adults can also stand to listen to (just screen the lyrics first!).
7. A gift certificate for massage – something I wouldn't usually treat myself to, but if someone gifted me this, I'd adore them. Who to call in Cleveland: Emily at Bliss Health and Healing Center.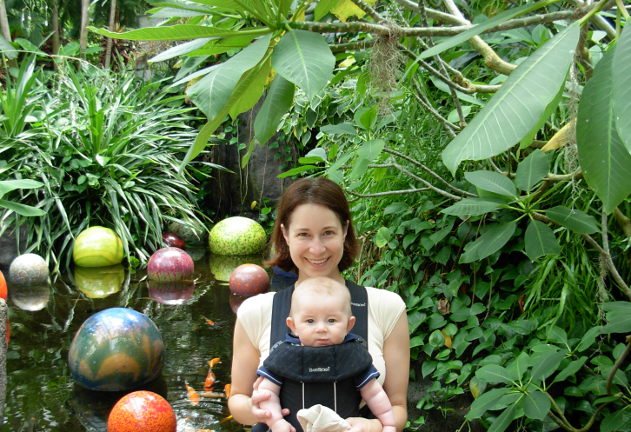 Disclaimer: We are an affiliate of SitterCity. If you purchase a membership after clicking through from our site, we may receive a small commission. We are not affiliated with any of the other links in this post — we're just fans of what they offer!