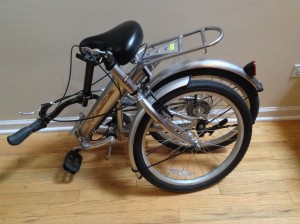 When my concert piano playing husband started angling for a commuter bike for Christmas, all I could think about was what the first thing to hit the ground would be when he got creamed in insane Chicago traffic. While I listened to WBEZ this morning and was reassured by the two founders of Women Bike Chicago that riding one's bike is truly relatively benign, I must say, I am happy that after one and a half years, both bike and rider are fully intact (knock, knock, knock). If it weren't for the nuts drivers here (speed limit truly is a fluid thing), I would have to admit that I am a total convert and proponent of the benefits of the bike. Bikes Are Awesome. Why?
1. Holy money saver. I balked at even the steeply reduced sale price on my husband's folding bike and we covered the cost in the first three months of pedaling versus train/bus fare. This does not even factor in gas costs for a car (gas is outrageous in Chicago). It blew me away.
2. No carbon footprint. Clean transportation. Anything that can be done to reduce air pollution anywhere but especially a major metropolitan area is a huge plus.
3. Excellent exercise- Easy on joints, great for cardio, muscular engagement and balance.
4. An awesome family/friend activity and great to do with kids.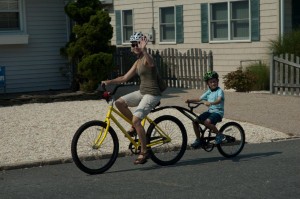 5. Many cities now offer rental bikes that are affordable ways to sight see or simply get from one location to another. This communal effort to create affordable and accessible transportation builds pride and community.
6. Frequently, biking is faster than mechanized forms of transportation.
7. You don't have to go the retail route to get a decent bike. Craigslist, Police Sales, and community biking coops offer a wide variety of bicycles many times at a fraction of the price.
Grab a helmet and take a ride!