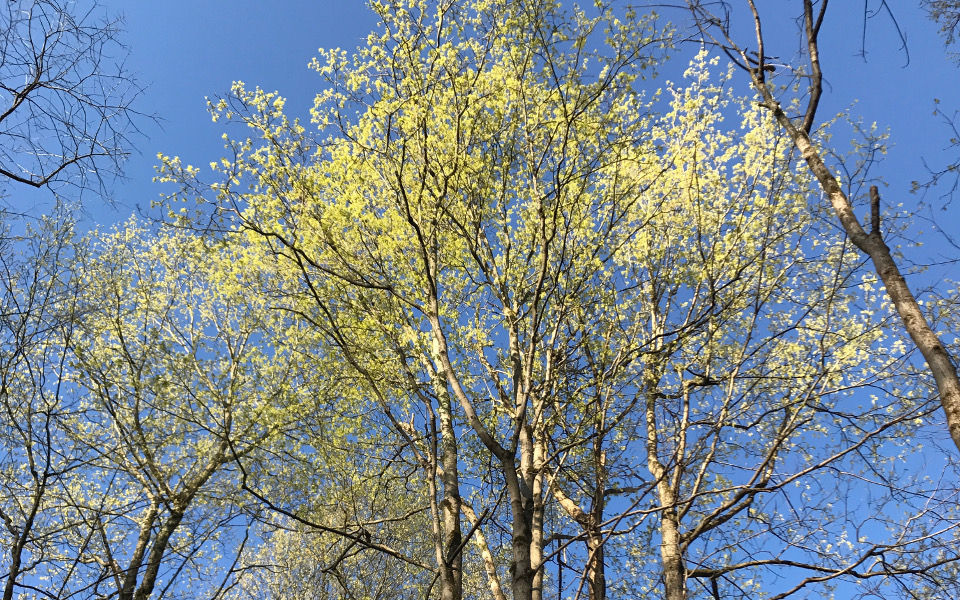 I am lucky enough to live in the woods surrounded by about a thousand trees. This picture is of some of the beauties I see outside my window when I work, towering above our house. They are older than I am, and remind me how long it takes nature to grow something so majestic. (I'm also reminded of this when I see a new subdivision, devoid of trees.)
Spending time around trees is calming, centering, and is being proven in scientific studies to improve our health. The Japanese have coined a term, Shinrin-Yoku, meaning "Forest Bathing":
If you need scientific evidence of the health benefits of being around nature, here are a few motivations for you:
People's stress levels are directly related to the amount of green space around them, according to a Scottish study.
People who pay attention to nature are more likely to feel better, value community more, and be more generous, according to a 2011 study.
Children who walk or bike to school get a boost in their powers of concentration that lasts 4 hours, according to a 2012 Danish study of 20,000 children.
The power of natural light and a natural environment can be healing, even indoors, according to this article about biophilic building design.
So plant a tree this weekend! Don't have a yard? Don't have a local park volunteer tree planting event? No worries… there are many ways you can still do it.

Today on Arbor Day my local metro park system is giving away 7000 trees. Yours could be too! Our forest is thriving with new growth, so my son will be planting the one we pick up in his grandparents' yard. Three years ago we did this, and now my parents proudly report that "my son's tree" is ten feet tall.

You can gift trees! The National Arbor Day Foundation will send trees in tubes with a gift card to someone who could use a few trees. You can also buy them yourself to give as favors, thank-yous, etc. I love this idea as an eco-friendly option for wedding favors.

Join the Arbor Day Foundation and they will plant 10 trees in a threatened rainforest in your name. (Or you can choose to gift 10 trees to someone or plant them in a national forest.)

You can plant trees in memory or celebration of loved ones in a National Forest.
*We have no affiliation with the Arbor Day Foundation, and we were not compensated for writing this post. We just support what they do!