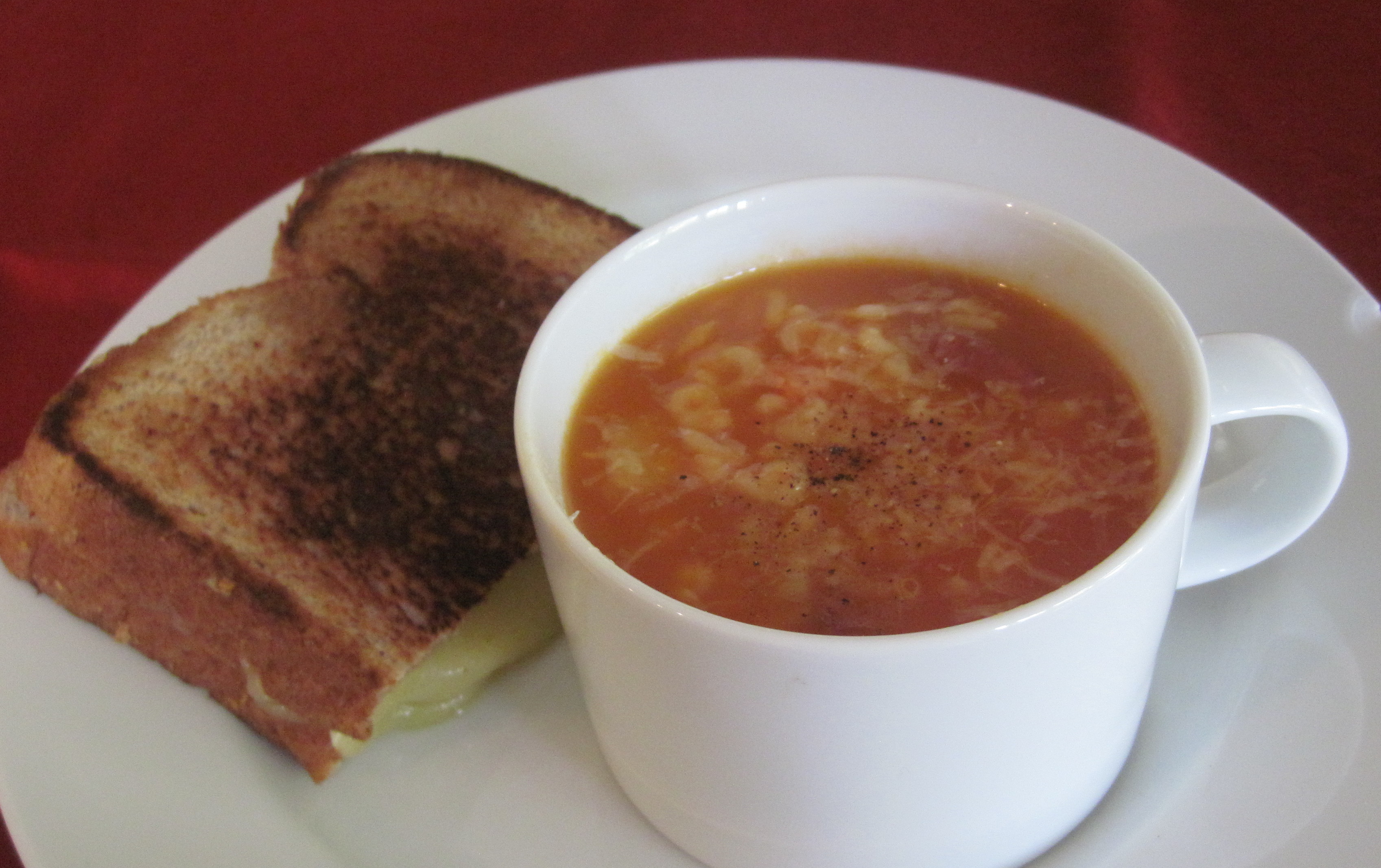 My son loves bringing hot food in his thermos for lunch every day. Lately I've been wanting to expand his soup horizons beyond his old standby. I came up with this recipe, which tastes remarkably like the Campbell's I remember from my youth, but so much better. I puree the main vegetable/broth base so there are no "weird" chunks of onion, etc., then the main veggies are customizable to what your kids like. Mine loves beans, so in go some red beans (his choice — chickpeas or white beans would be great too). I also add potatoes, carrots, and corn. No peas or green beans for this kid! The carrots are a hard sell for him, but even if he avoids the diced carrots, there are more hidden away in the puree that he doesn't know about. Sneaky. Add grilled cheese on whole wheat and you have a complete, nutritious, and kid-friendly meal.
Kid-friendly Homemade Alphabet Soup Recipe
Makes a big pot of soup
Ingredients
6 cups chicken broth (or use veggie broth for a vegan alphabet soup), plus more for thinning the next day
1 28-oz can whole peeled tomatoes with their juice
1 tablespoon olive, canola, or other oil
1 medium onion, diced
2 carrots, diced
1-2 stalks celery, diced
1 yukon gold potato, diced
1 cup alphabet pasta, uncooked
small amounts of other veggies of your choice, such as corn, peas, diced green beans
1 can beans of your choice, drained + rinsed (optional)
a dollop of pesto (optional)
parmesan cheese rind (optional, but great to throw in if you have one!)
salt + pepper to taste
1/2 teaspoon sugar (optional)
Instructions
In a large pot, heat the oil over medium-low heat. Add the onion, half of the carrot, and all of the celery, season with salt + pepper, and saute for about 8 minutes, partially covering after the first 4 minutes.
Put the remaining carrot and the potato in a separate small pot and add just enough broth to cover. Cover pot and simmer until just tender.
Meanwhile, add the remaining broth, the whole peeled tomatoes and their juice to the large pot. I like to remove the cores and seeds from the tomatoes first, and roughly chop them. Simmer until all the veggies are soft, then transfer to a blender or food processor and puree until smooth.
Return puree to the large pot, and add the carrot/potato/broth mixture, the dry alphabet pasta, the rest of the veggies (corn, peas, etc.), and the optional beans. Toss in the parmesan cheese rind if you have one. Simmer gently until the pasta is cooked. At first it will seem like there's not nearly enough pasta, but an hour later the pasta will balloon up and it will be more like stew. You may need to add a little chicken broth the next day before serving leftovers.
Important last step: Season with salt. I had to add more than I expected. Keep adding 1/4 tsp amounts and tasting until the flavors all come out. I also added a small amount (a large pinch, or around 1/2 tsp) of sugar, which may not be necessary, but I've found in tomato-based recipes a combination of salt + sugar balances and enhances the tomato flavor. Add up to a tablespoon of pesto if you have some. It's the secret ingredient that adds extra deliciousness.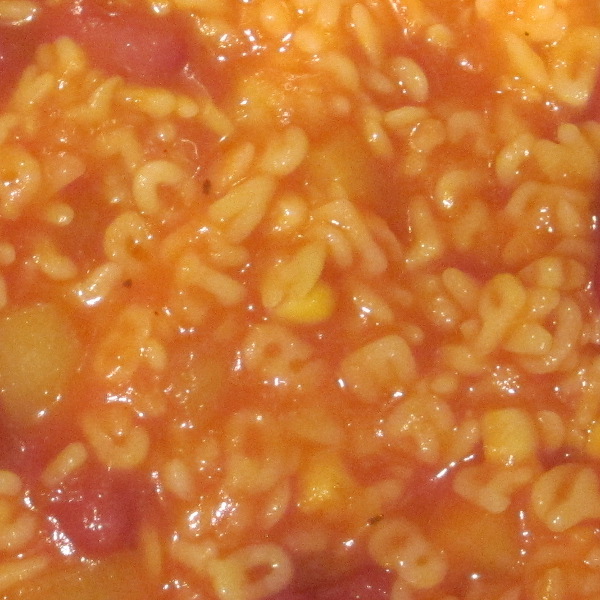 Our favorite workhorse thermos, used every day in our household: