Brr! Yesterday it was -12 here in Cleveland – without wind chill. It's the kind of cold that's hard to shake, even inside. The kind of cold that makes you want to snuggle up near a hissing, clanging radiator (if you're lucky enough to have one) and wrap yourself in one of these: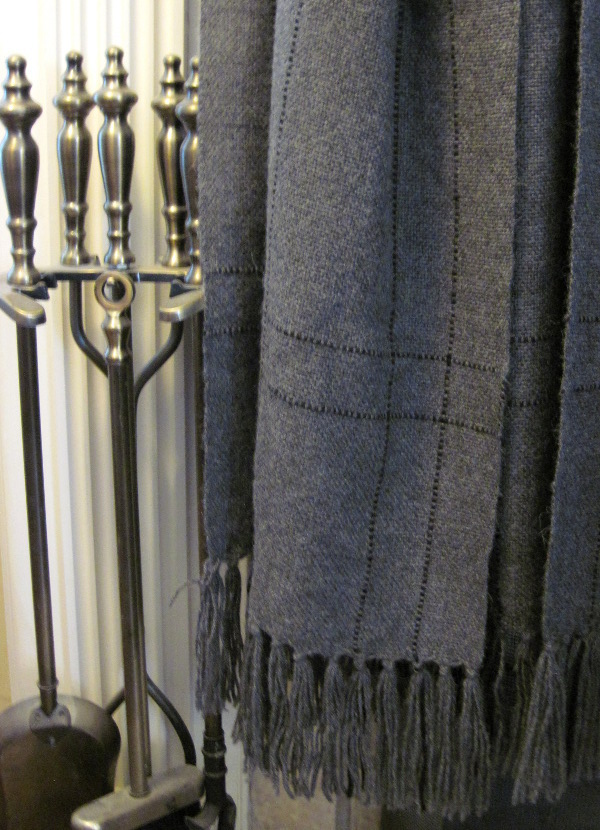 Tom Jipson has been hand weaving these gorgeous fabrics for 39 years in his New Hampshire farmhouse. The shawl wrap I own is 100% natural alpaca fiber with the magical properties of being thin + elegant yet insulatingly warm (alpacas live at 12,000 feet in the Andes) and silky soft. An alpaca wrap of this size (23″x86″) is a treat, but I don't believe in saving special things for rare occasions — I use them with joy! So this piece has been my constant companion all winter. As a fashion piece, it makes an statement through its dramatic length, the elegance of its fiber, and the fineness of its workmanship. I wear it as a shawl while working in my studio or socializing, I used it as a lap blanket during our winter break road trips, and I even wrapped it around my head and neck to go hiking with my little guy. It is of such fine quality, it will last for years. It's difficult to convey the beauty of the weaving in my photos, but you get a bit of an idea from these photos of Tom's loom:
Tom says, "Mine is the world's smallest business. All the work is done by me – from designing, weaving and finishing all the fabrics to changing the oil in the truck." Truly an artisan work, handmade in the USA.
To see all his beautiful scarves, shawls, and throws, visit his website: Tom Jipson, Weaver.
Interested in learning how to weave? Tom offers classes — the next one starts February 15.
———-
I was not compensated for this post in any way, and I have no affiliation with Tom Jipson.